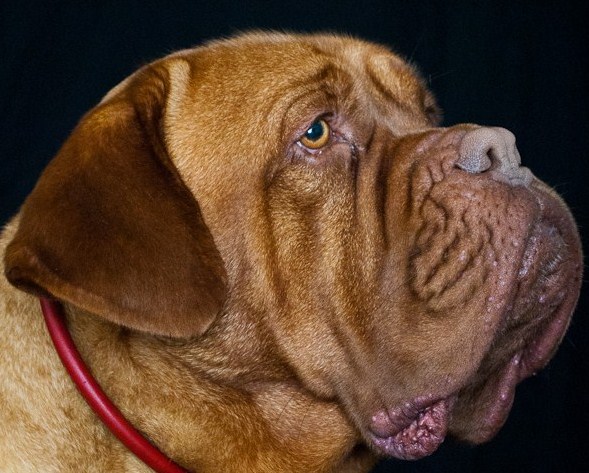 We like to thank Aaron Beard for allowing us to add this female to our Old School Bordeaux program. We just love her pedigree due to the fact we've just added some more of Int. Champion Arthur of Clearcut, as well as Int. Champion Zeus of Italy. Her great grandfather Int. Champion Asso: son to Athur of Clearcut we always wanted to have in our program. With our male Old School's Braddock having Ch. Grot and Ch. Edi Omen, also sons to Arthur of Clearcut, we plan to due some nice line breeding in the future with Havana. As much as we love the top half of her pedigree, we are really excited about the bottom half in which we added some of the older Russian and Italian bloodlines. This girl has a look to her that is different than any of our other girls. She is 24 inches at the withers and currently weighing in at 120.4lbs. with room to add about another 7lbs. and yet still not be a overweight female according to our Veterinarian. Her body is what we love most about her, in that she has good bone size especially in the upper part of her front legs. Her rear is very strong and powerful with great angulation. Her chest is the perfect combination of depth as well as width. Her head has good type and is not overdone in the whole smashed back pinched nose look, which we like. She has been a great addition to our program and can't wait to see what she will produce with Old School's Ariel (pick male of Anderson's Hannibal de Kokomo X Anderson's Flame de Kokomo) in May 2012, which will be a line breeding also.
May 2012
We here at Old School Bordeaux would like to thank Aaron Beard for allowing us to add this female Havana Nouvelle to our program. Aaron is in his third year in the Pre-Veterinary Program at Purdue University. For many years Aaron has had several different breeds of dog, but once he sat eyes on the Dogue de Bordeaux he fell in love with the breed instantly. Although Aaron has only owned two Dogue de Bordeaux, we here at Old School Bordeaux know Aaron will help us take our program to an even higher level.

We consider it an honor to have him a part of our team

!!!
Sire: Urban Sohos Nocturno
Dam: Savannah Del Telculca
Pedigree for "Havana Nouvelle"

Parents

Grandparents

Great Grandparents
2X Great Grandparents

3XGreat Grandparents

SIRE

Int. Ch. Urban Sohos Nocturno

Int. Ch. Enzo Vickovskeno Mlyna

Int. CH. Asso Tatra Bordo

Int. CH. Arthur of Clearcut Carnivorous Vulgaris

Int. CH. Alabama Coloss

Aria Ahapes

CH. Batta Szepe Charly
Asta Bajarka

Szentleleki Voros Suzy

CH. Karlo V. Nordniesachsen

Bon Vitalis Dodge
Anjin San Chessie
Red Cerberos Athena

Int. Ch. Tanakajd Szepe Klod

CH. Szentleleki Voros Aida

CH. Lovely Dee Celcelia

CH. Uliou De L'aube Rouge

Int. Ch. Rano De L'aube Rouge

CH. Rhomba De L'aube Rouge


Tanakajd Szepe Mandi

Iroc De La Gaie Maisonnee

Minnie Del Pardo


Renault Orzoe Colli

Bata Szepe Franco

Golden Des Molosses D'Aquitane

Bella Moloss

CH. Jachinte Des Molosses D'Aquitane

Eliot De La Font De Pepignon

Fouchka Des Molosses D'Aquitane

Croux De La Seigneurie Des Chartons

Valmy Kwan De La Seigneurie Des Chartons

Vanoise Kwan De La Seigneurie Des Chartons

Cybelle Du Clos

Franc Luc

Alaskan

Ambra

Apollo Del Capriano

Agor Du Clos Des Amourettes

Alida Vom Neffeltal

Hyalta De L'Etang De Mirloup

Eros II De L'Etang De Mirloup

Valy

Alex Crus

Not Available

Not Available

Not Available

Not Available

Not Available

Not Available

Ophelia

Not Available

Not Available

Not Available

Not Available

Not Available

Not Available