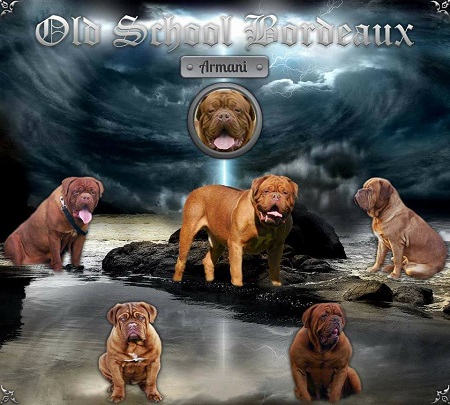 Old School Bordeaux is located in northern Indiana in the city of Kokomo. I became intrigued with Dogues at the age of 14 and now, as an adult, this is the first breed that I have owned or will ever own. I would like to give others the chance to get to know this outstanding breed of dog in the same way that I have. With the help of my family I hope to contribute to enhancing the quality of  Dogue de Bordeaux being produced today here in America.
 Our goal is to produce healthy puppies with good temperment, bone and body structure, correct head type, and height within the breed standard. Another thing we pride ourselves in, is having that dark red color Bordeaux that produces that color on a consistent basis. There are so many great Bordeaux bloodlines available but here at Old School we have chosen to build our program on bloodlines that have strong genetics, which allow our Dogues to consistently produce themselves or better. We also look for the not so common pedigrees, so if you choose to purchase a pup from us you are not just getting any pup, but a pup with a pedigree combination that is unique. With that being said we desire to be the best Dogue de Bordeaux breeder we can be for all our clients.  All of our pups are seen by a vet before they arrive at their new homes and they are hand raised and given lots of love all the way up till they leave us at Old School Bordeaux.  We strive to make sure all of our pups go to good owners who love them as much as we do.
    Some feel as I do that these dogs are the gladiators of the dog world, therefore they should not look like sumos. With that being said, we feel that size and strength are qualities that Dogues should have but we will not sacrifice athleticism and body movement solely to produce massive sized dogs. We feel that too much of the wrong kind of weight can be detrimental to their health.  With that being said Old School is striving to produce the complete Dogue de Bordeaux;

Health, Bone, Type, Movement, and Athleticism!!