Click on the Dog's name to go to its own page.
"Descendent of the Great Dorsdof Davil"
The breed standard minimum weight for a male Bordeaux is 50kg. which is equal to 110.23lbs.  No matter what people who have never seen our males in person may say or think, all of our males "

weigh more than

" the breed minimum.  Though size can be beneficial in a breeding program, it is far from our main priority with the males we have here at Old School Bordeaux.  Our #1 goal for our males is to have them produce "

Healthy

" pups that are consistently better than themselves. Even though we do not put much stock on how much our studs weigh, we do expect them to have good bone, mass for their specific frames, and excellent head type to go with their overall structural confirmation. What benefit is size in a male who doesn't have or produce offspring with confirmation?? We also chose our males for their bloodlines and specific "Bordeaux Type" they offer to our program and not every champion in their pedigrees weigh 140lbs or more. "Bigger is not always better," but with our studs we feel we have a good combination to go with "

Our

" females!!! Our philosophy with ours studs when they are pups is to build a strong structural foundation early and pack on the mass when their frame is done growing. This idea has been working for us consistently.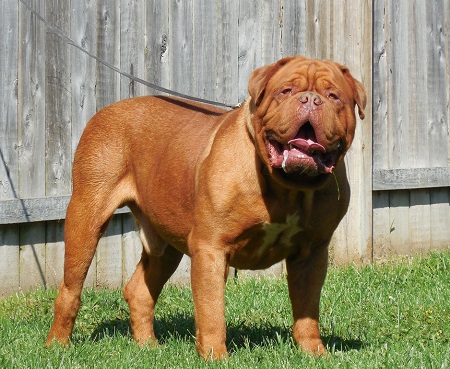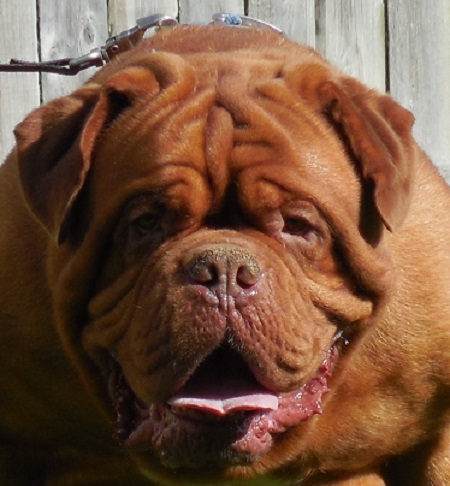 Kazuya at 3.5 years old currently weighs in at 154 pounds and stands 25.5 inches tall at the withers. His chest is one of a kind and we feel you be pressed to find one better than his in the U.S., the last time we measured him he was 46 inches around his rib cage. His head is 28.5 inches and his muzzle is solid in width as well as being only 1.75 inches in length. His rear is very thick and legs are powerful with lots of pulling and driving power; this is probably the most underrated feature on him. What I like most about Kazuya is that he is a stud that produces better than himself consistently. When put with a high caliber female, we expect nothing but the best from his offspring. He has produced a AKC Champion in his daughter Old School's Envy Of Us All, and she did this in just 5 shows by the time she was around 18 months. In 2017 our young females Aaliyah, Zola, and Destiny will be ready to breed to Kazuya and we are so excited to put these high quality females with our main stud.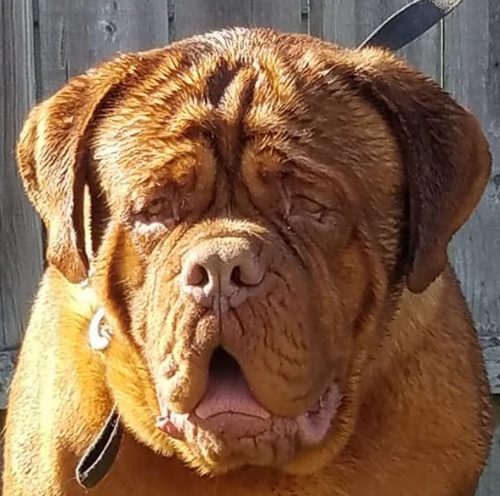 "Taurus Usharon"
*aka Taiga*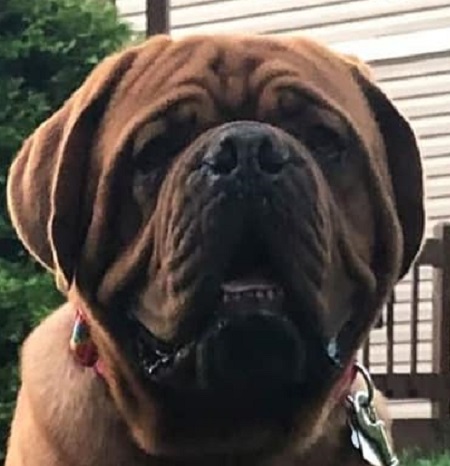 "Salty Dogue's Ryo of the Wildfire"
"Legion Of Bordeuax Dark Knight"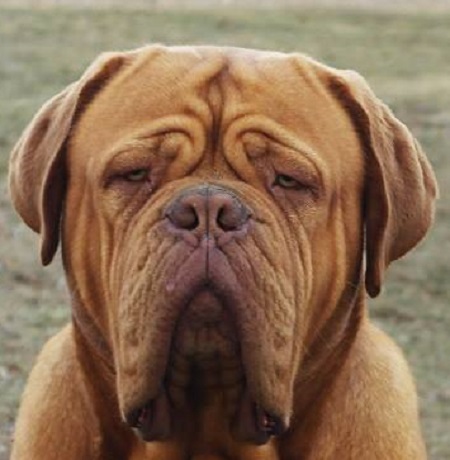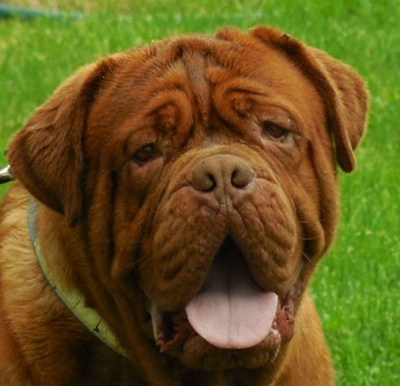 *Retired*
This big guy is one of two males that were born out of our Armani and Flame litter. We love this boy so much and are grateful to have had the opportunity to produce a litter out of our Armani before a freak accident took his life. This pup is a carbon copy of his father but we feel this guy has the potential to be even better than Armani. Braddock loves to run and play tag for hours with his sister Benecia, this along with Old School's nutrition program has allowed him to put on a great amount of lean muscle at an early age; especially in his rear legs and shoulders. Currently at the start of his 13th month he weighed in at 127lbs., Braddock also has a 26 inch head, 36 inch chest, and is 24.5 at the withers. As great as Armani's head was, Braddock's should be even better but it is his body potential we are excited about. His mother Flame has excellent depth of chest and a very thick, powerful rear. If Braddock's body ends up being similar to her or her father Heavenly Acre's Zeus, he is going to be a very special male!!
Birthdate – 06/12/2011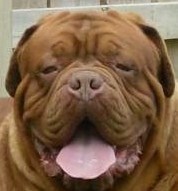 *Rest in Peace*
First I would like to give a special thanks to Mr. Freddy Solvang and May-Linda of Knoxville Kennel in Norway
for allowing us to have a pup from this special breeding that took place and has produced "Knoxville's Giorgio Armani". He has everything we were looking for in
a Bordeaux such as type, bone, and structure to go along with his movement. He
posesses bloodlines from some of the best dogs in the world. His mother who is out of the world famous Spanish kennel in El Siscar has a nice dark red color and great movement to go along with her True Bordeaux Type!! His father who is a descendent of the

Great Brandoux Toezz has phenominal bone size to go with his massive body. Even though he is one of the larger males out there, he has an awesome body with great movement and angulation. With a 31 inch head and a chest that is a little over 45 inches we feel that if Armani turns out to be anything like his father we are going to be in for a special treat. We already had plenty of Type, movement, and good structure with our Dogues but with Armani now a part of our program, we now have the bone, size, and massive head type to go with our program.
Passing Date – 07/17/2011 – "Gone now but never Forgotten"
We will miss you Armani!!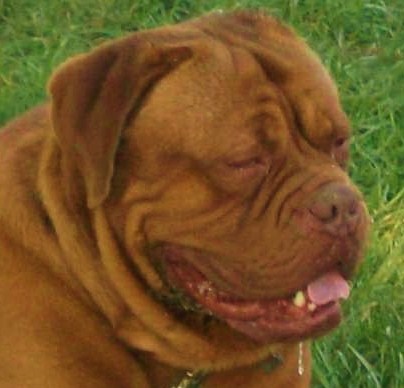 *Retired in Canada*
Vice is a stocky and athletic, red male out of the Dorsdof Davil line. Though he is far from being the largest male Bordeuax out there, he still produces pups that are much larger and better than himself, which is a sign of a great producing male. His head almost looks like a block at times and his face has no mask with good wrinkle. His chest both broad and deep posesses great muscularity.  He reminds of so much of his great grandfather Int. CH. Zeus of Italy who was not a big male but produced big champions.  At 24.25 at withers, which is within the breed standard for height, Vice gives us an "

Old School

" look and pedigree to our program.  What we like about Vice is his rate of development which is allowing him to put on the right amount of weight so his bone can handle it.  Vice is a solid built Bordeaux that can really move.
 Birthdate – 10/4/2006.